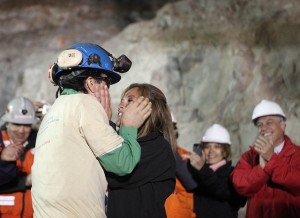 What an amazing story of determination, hope, and commitment to find a way to rescue the Chilean miners trapped for 69 days, 2,000 feet below the surface of the earth.  They were literally buried alive and raised up, one by one, through a hole barely wide enough to fit a standing human being.
Technology is so cool.  I watched three reunions with over a million others through a live stream video.  From anywhere in the world, with an Internet connection, you can watch these beautiful moments of transition from captivity to freedom.
This is what can happen when people work together to find a solution. Giving up wasn't an option. The rescuers held on to hope and believed it before they saw it.  Today, the world has a view and damn, it looks glorious!
This story represents a beautiful metaphor for what I see happening in the autism community.  Daily, parents help their child through the portal because they never give up hope and they work together with a collaborative team dedicated to their child's recovery.
Our children affected by autism wait for us to help unlock their personal portal to freedom.
When we work together, collaborate, brainstorm, think outside the box, support each other, share our stories of both success and failure, trust our instincts, listen to what our child's body tells us, work with doctors and specialists that practice with an open mind, TOGETHER we make progress and get closer to discovering that unique portal for each child.
Recovery is possible.
Today's rescue of the miners renews my belief in the goodness of my fellow human beings.
I will never give up hope and I'm deeply grateful to the parents, doctors, specialists, educators and organizations that have given our community a backbone of strength and resilience.  Together we will continue to create the possibilities for healing.
Welcome home to every miner. I can only imagine the joy and love reverberating throughout their families knowing their loved one is safe above ground.