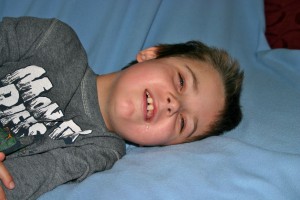 Today was a HUGE day of letting go. Ian, my eight-year-old son with autism, ate a scrambled egg for the very first time. Why have I waited almost nine years to feed him egg?  Because I've held tightly to the belief that he was allergic and would have a horrible reaction.
Who I was when I believed the thought.
When I believed Ian would have a horrible reaction if he ate an egg I became hyper vigilant.  I hovered when anyone else around him ate eggs.  I lived in a state of fear of what might happen.  I spent a large amount of my waking hours worried about the future, in a place that never came.  I separated from the present moment.
The Work showed me how to let go.
Last weekend, I attended a five-day workshop with Byron Katie where I dove into The Work.  I returned home Monday night and continued to test my beliefs, one at a time.  In less than a week Ian has experienced five new foods with absolutely no negative reactions and I now believe he's doing better than he was last week.  Why?  Because by testing my beliefs, my projection of him shifted in a dramatic way.
What happened after Ian ate his first egg?
He smiled, laid down on the couch and relaxed.  I asked my husband to do a little recording to show how calm he was two hours later.  As I type this, it's been almost five hours and all I hear are sounds of joy while Ian plays outside, jumping on the trampoline and swinging in his swing. Lentils are cooking on the stove and will be the next food we try tonight.
Letting Go from diane Hunter on Vimeo.