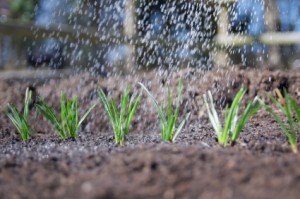 Disaster struck when my first son, Ian received his diagnosis of autism.  So I thought.  That disaster seven years ago in 2004 turned into a beautiful unfolding of love, compassion, acceptance and renewal.  But when I first heard the news it felt like a fire ripped through my garden and ravaged my soil.  Life within me died.  I felt desolate, empty, broken. In 2005, I read the book, "Expecting Adam" by Martha Beck and felt a tug of hope but the soil in my garden remained dry, undernourished and neglected.  It took nearly three years for the soil to recover and reach a state of acceptance where it was ready for nutrients. Early 2008 I began to listen to Wayne Dyer CDs on my iPod during my runs.  I named these times my "mental health breaks".  The sun began to peek through and warm the soil. Next came the seeds and much needed water! Early 2009 I attended a one-day workshop in San Jose with Martha Beck, best-selling author, monthly columnists for "O" magazine and life coach.
Half way through the day I experienced an overall body vibration, like I was sitting in a massage chair.  At one point I saw a yellow hue around Martha and thought I may possibly be hallucinating from lack of sleep or perhaps I was going temporarily insane.  None of that mattered though because the openness I felt was unmistakable.  My path lay clearly before me and it felt truer than anything I'd felt in many years.
I promptly purchased her book "Steering by Starlight", signed up to train with her as a life coach and attended a three-day workshop with horses, Martha and Koelle Simpson (another one of my great teachers.)  Time to receive the lessons.  The seeds burrowed themselves in the soil, desiring nutrients, water and sunlight.
At the three-day horse workshop, I went from feeling trapped by my son's autism to seeing that the only place I was trapped was in my mind! I sat there in Scottsdale, Arizona while my son remained safely back at home in California.
I was free! It was my thoughts about my son's autism that created my suffering and I was ready to let that go of those painful thoughts.  My garden began to sprout and took in exactly what it needed to produce the most delicious, fulfilling harvest imaginable. I love my garden!
So, now in 2011, here I am, exactly where I'm supposed to be; taking it all in, open to the possibilities and trusting that I will know exactly where to go when I follow my inner compass.  It's all there waiting for me to show up and lead my life.  I'm no longer stuck, my excitement is boundless.  Now I learn about tending my garden and what it takes to keep it filled with love and abundance.
I'm profoundly grateful to my son, Ian for being my greatest teacher and for leading me to this moment.  His body and brain continue to be affected by autism and he shows me every day how incredibly brave and courageous he is.  He still has many challenges and his body works hard to heal itself.  I'm in awe of what he puts up with and I'm pretty confident I wouldn't handle it with as much grace and patience.
I'm deeply grateful for every small step forward on his healing journey.  He's taught me to celebrate the small things. And the big things?  I imagine a day when he no longer has seizures and no longer requires diapers.  I believe those huge steps are absolutely possible because he's shown me in so many other ways how he's capable of healing.
Ian's message is powerful.
He's here to show us the importance of finding our way back to balance, to bring our earth back to balance, to make it a safe environment for him and others like him to live peacefully and safely in their bodies.
The longer we remain out of balance the louder the message will become and more children and families will suffer.  I'm hopeful that the "voices" of our pre-verbal children have become loud enough for our society to hear.  The time for finding our way back as a human race to a state of balance, love and peace has arrived. I believe it's possible and I will never give up hope.
If you want to create a new perspective in your life I invite you to make one small change to a pattern that creates suffering and pain and see what happens.  What is one thing you can do for yourself today to plant one small seed?
With love and healing.
Click Here if you'd like to share a comment on the blog.