Vaccine manufacturers injured my son.  Can you relate to this thought? Do you believe this thought or something similar?  What are your thoughts about vaccine manufacturers or pharmaceutical companies?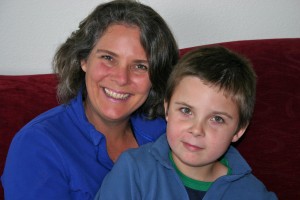 My son Ian, has autism and does not use verbal language to communicate.  He received vaccinations through six months of age.  I stopped because I believed vaccines caused injury to his nervous system, digestive system and immune system.  Within his first four months of life, I noticed delays in his development.  He developed reflux within the first six months and I witnessed his first seizure at eleven months.  Though I suspect they were happening before that time.  (If you're curious to read more about Ian's story, visit my About Ian page.)
Believing the thought "Vaccine manufacturers injured my son", created many years of suffering in my world.  It affected the way I treated the people in my life.  I was full of anger and quick to point the finger with blame and judgment. This single belief created great tension and stress that radiated outward to everyone around me.
I questioned thoughts that created stress in my life for several years using a method developed by a woman who I consider a master teacher of our time, Byron Katie.  Katie has given our world the gift of The Work.
My first experience with The Work blew the doors off the hinges of my mind and showed me it was my thoughts that created the prison I "thought" was my life. I walked away from that experience with a new awareness and understanding that I was not the victim of my circumstances.  I went from feeling trapped, to realizing I had all the power to be free of suffering.  I've been using The Work ever since.  I wrote about my experience in the post, The Day I Discovered My Freedom.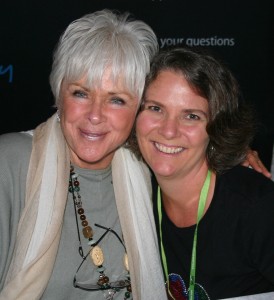 Last December, as my husband and I drove to Katie's New Year's Mental Cleanse event, I filled out a Judge-Your-Neighbor Worksheet and set the intention to do some deep work.  When I stood up and read my Judge-Your-Neighbor worksheet to Katie, my entire body shook and I could barely make it through to the end.  She invited me to join her and do The Work.
Belief after belief shattered into pieces.  I discovered in the process that I did not know whether vaccines injured my son.  I couldn't absolutely know for sure.  Wow, that was an eye opener.
It turns out, the event was video taped and Katie recently released a DVD titled The Work on Autism.  It includes my experience of dissolving one painful belief after another.  This video shows a brief two-minute segment from the DVD.
I left the room that evening feeling a thousand pounds lighter and with a newfound compassion and understanding.  For me, Katie is pure love.  I'm deeply grateful for her wide open heart and that she made this experience available to share with you.
To this day, the anger and blame I felt is gone and replaced with gratitude.  If it ever returns, I now have The Work to find my way back to love.