I feel blessed to have a very active, supportive father who turns 75 tomorrow.  Happy birthday, Pops!  He still plays tennis three times a week with my equally awesome mom, Betty.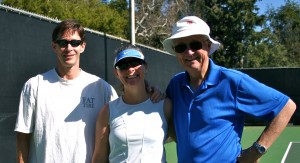 As a retired family physician, he still spends many hours learning and reading about the latest research and science.  I just got off the phone with him where I asked for advice.  He may be retired but he never stops being a doctor.   And he'll never stop being a great dad.
His desire for continued learning demonstrates that when actively stimulated, the brain continues to grow.
Thank you, Dad for all your valuable lessons and for continuing to be one of my greatest teachers in life.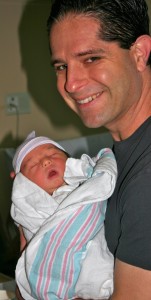 Earlier this year my youngest sister gave birth to her first child.  In my eyes, he's a miracle child.  She and her husband waited eight years for their little peanut to arrive.  I watched them travel this journey of pain and growth together.  I admire their commitment to each other and how they gracefully received the many lessons along the way.  I'm just so pleased they received the most delicious prize in the form of a beautiful, healthy baby boy.
Happy first Father's Day, brother.  It brings me great joy to write those words!!!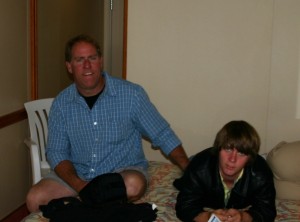 My oldest sister's husband spends his Father's Day (for the past nine years) commercial fishing the waters of Alaska.  His son followed his footsteps at the age of fourteen and five years later they continue to share these unique adventures.  I don't pretend to comprehend what they experience.  They tell great stories of fishing for days at a time with very brief breaks…the sun barely sets this time of year.  He returns rejuvenated and proud to feed his loved ones healthy, wild salmon and halibut.
Thank you for providing healthy feasts throughout the year and unconditional love to your children.  Love you brother.
Then comes Lowell, my husband.  He works a job Monday through Friday and comes home each night in time for family dinner.  We sit around the same table where his family shared meals.  We carry on this sacred tradition with appreciation and gratitude for the times we both shared with our families around the table growing up.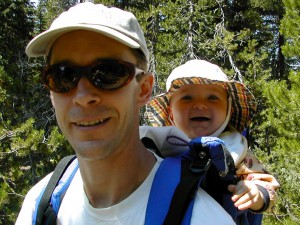 Thank you, Lowell for making this time of day a priority.  I believe we give our boys a great gift by spending these moments of the day together.  I believe this to be true because it meant so much to me growing up as a child.
It doesn't take much time to make those meaningful connections and lasting memories.  The quality of the time does matter.
Lastly, I want to express a special thanks and Happy Father's Day to my father-in-law.  We never met in person.  He passed away when Lowell was barely an adult.  We miss having his physical presence in our lives and yesterday I spent a few moments thanking him for all that he did to raise a strong, loving man who now carries on his legacy as a father and husband.  He led his life with integrity, generosity, humor and love.  All qualities Lowell embraced and now provides as an example for our boys.
Never underestimate the impact you have on your children.  You make the choices; you lead the way...by example.